It is an ancient Tuscan recipe of the peasants' tradition to re-use in a creative tasty  way stale bread. The result will be given by the quality of the ingredients as it is the very high quality of the ingredients that make or break a simple dish like pappa al pomodoro. Peasant wisdom  based its own food on seasonal produce which is tastier and definitely healthier than the one preserved for a long time. According to tradition the soup has to boil up "to break seven veils of cooking"  to be ready – to boil 7 times- it should simmer slowly and before bringing it to the table, add a drizzle of extra virgin olive oil.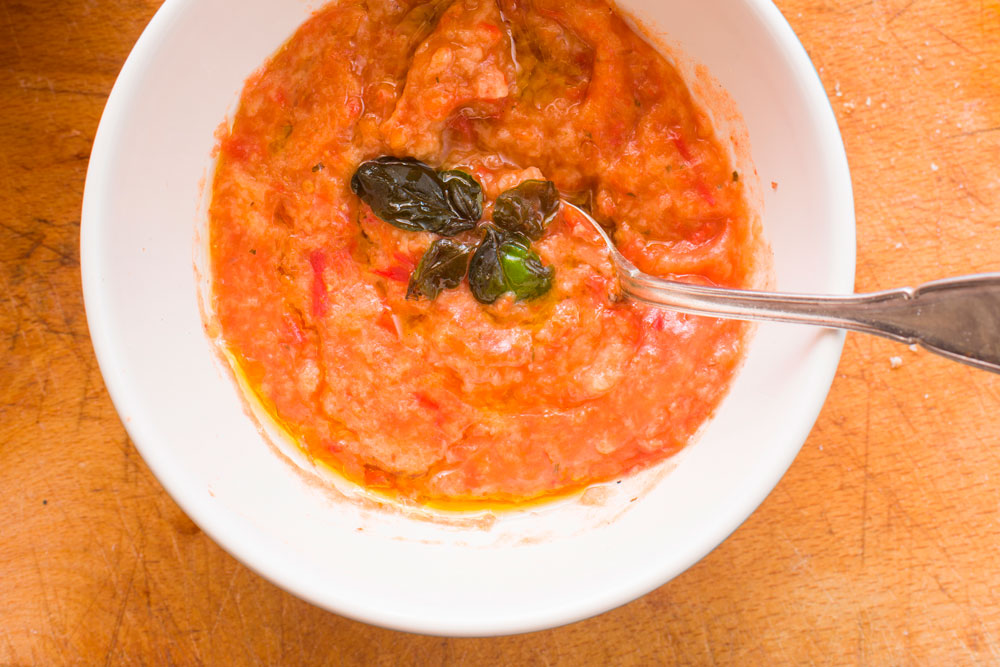 INGREDIENTS
1 kg ripe ribbed tomatoes

350 g natural leavened stale  (at least 3 or 4 days) Tuscan bread baked in a wood-fired oven

1  litre of light stock (vegetable stock or water)

4 cloves of garlic

1 bunch basil

Extra virgin olive oil
PROCEDURE
1. Wash the tomatoes, chop them up, remove the seeds and cook them in a earthenware pan where the garlic has been browned with the extra virgin olive oil on low heat.
2. When cooked, chop the tomatoes with a fork, cut the stale bread into thin slices, put the stock in the pan, add the slices of bread, oil, whole basil, salt and pepper.
3. Cook until the liquid has almost completely consumed; Stir vigorously until you get a thick soup.
4. Add a drizzle of olive oil over the soup before serving.