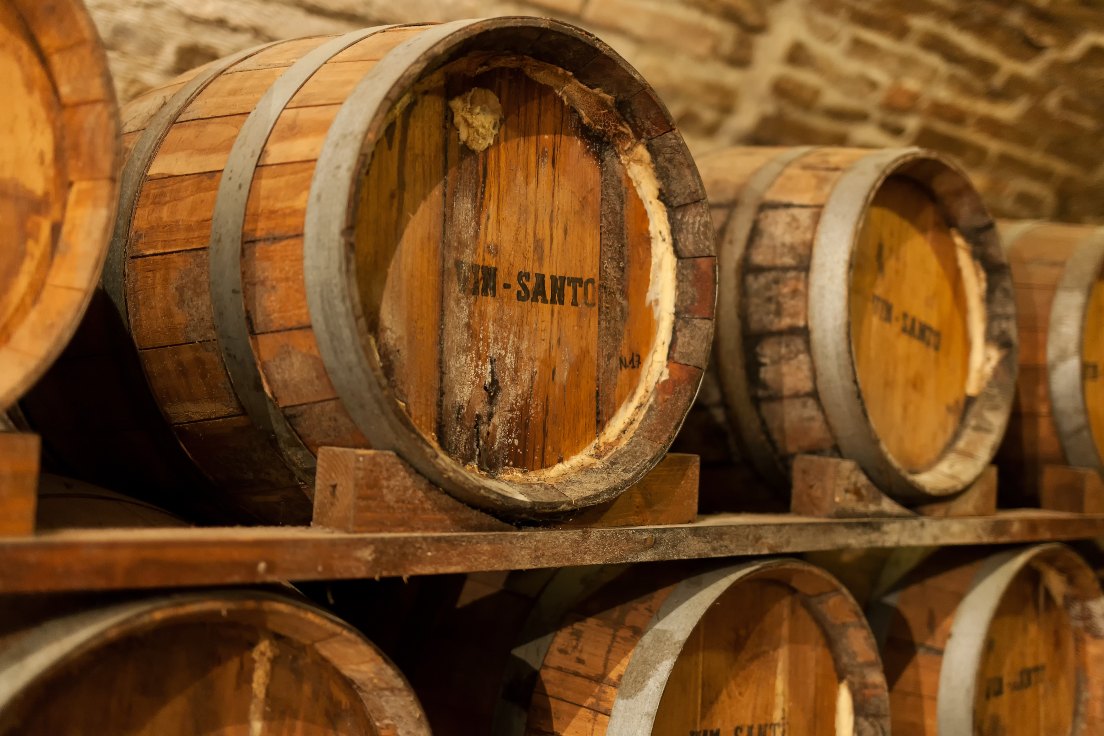 Caressing, enveloping and deliciously fragrant, the Vinsanto
 ( or vino Santo) also known as a wine of friendship, embodies the welcoming hospitality typical of the Valdarno. It is a precious wine to be offered on special occasions in order to demonstrate affection, friendship and hospitality.
Among the most famous wines in Italian enologo, vinsanto has distant origins in myths and legends. It is said that in 1348, when the population was flogged by the plague, a Francisca friar used the wine , usually used during the homily , to treat the plague victims. Thus the belief that it had miraculous therapeutic properties spread , hence the name of "saint".
Another legend tells of Giovanni Bessarione who, during the council of Florence in 1439, while he was drinking the " vin pretto" – pure wine- exclaimed : This is the wine of Xantos – the passito wine of Santorini, referring to the Greek island where the wine was produced from dried grapes, but his guests confused the term "Xantos"with "Santos", thinking that Bessarione meant that that wine led to eternal salvation. In fact, most likely,the origin of the name is due to the fact that it  was used in the celebration of the catholic mass.
This wine has played an important and prestigious role in the Tuscan and Valdarno tradition since the Middle Ages. It is Produced according to tradition with techniques and devices handed down orally over time, from father to son, as the most precious inheritance.
Also in Valdarno, in accordance with the ancient traditions of the winemakers an excellent vinsanto is produced : it is obtained from Trebbiano and Malvasia grapes, which were traditionally dried in mats of reeds or hanging them on hooks. Once withered they were crushed with the  " strettoio" and the must was transferred in barrels called " caratelli " with The " mother". The sealed caratelli were placed in the cellar for a minimum of three years or, in the attic as it was believed that the strong temperature ranges helped fermentation. Today several wineries produce high quality types of vinsanto.
The Vinsanto comes from the best bunches of Trebbiano and Malvasia, but also from Canaiolo, Pinot, Sauvignon and Chardonnay, worked with care by skilled hands particularly suitable to accompany desserts or aged cheeses. Amber coloured , amiable or dry it is one of the most beloved products of this land.